News
Vestar Mini-Super Portable Electric Skateboard Best for City Commuting
by frank wong on Oct 01, 2019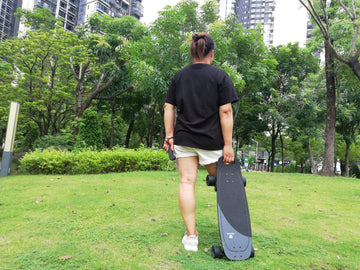 Ultra-Portable Electric Skateboard for City Commuting
Introducing the Vestar Mini 
Fall is upon us. The sky is blue, the crisp breeze in your face; this is the season to take it all in before winter is upon us. Our Vestar Mini is the perfect travelling companion. Allow us to share some of the features of the all new Mini.
Deep Concave and Maple Deck
With a concave deck and kicktail, Vestar Mini is capable of achieving greater maneuverability than a longboard. We believe you will find the Mini to be an exhilarating and practical way to commute "the last mile".
Powerful and Quiet
650W * 2 Ultra-High Power belt Motors provide Vestar Mini with the torque and fast  acceleration
Take It With You
Vestar Mini is ultra-portable. It weighs only 6.15kg/13.5lb, so you can carry it under your arm; to the bus, the subway - wherever you go, take it with you. We have also integrated a handle into the kicktail for enhanced portability.
Good Range for City Commute
Even we call it Mini, it stills has 10-15mils Range (75kg rider, 30km/h speed on a flat road).
Metal Battery and ESC Case
Newly customized metal battery and ESC case are strong and stable; The battery and ESC are fully protected within this streamlined package.
How about our Vestar mini-board? it is appreciated to leave your comments!