News
The Ultimate Guide To Choosing Best Electric Skateboard
by Frank Wong on Jul 12, 2019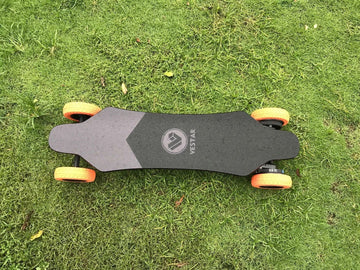 The Ultimate Guide To Choosing Best Electric Skateboard
When you choose your first electric skateboard, which features you should take care of? Quality? Speed? or Looking outside? I think quality is the most important for the electric skateboard. I will show you which features you must pay attention to.
Wheel quality
The higher the quality of the wheels, the better performance it delivers in terms of feel, ride, acceleration, speed, and handling.
Two major elements influence the overall quality of the wheels are size and hardness.
Soft wheels: Suitable for rough and tough surfaces or terrains as they bring more grip, rolling capacity, and predictable slide.
Harder wheels: Suitable for flat surfaces because they are less grippy. In turns, these wheels roll really fast.
Battery
90% of electric skateboards utilize the rechargeable lithium-ion batteries rather than the lead-acid because of its superb lightness. However, you should take note of their lifetime because lithium-ion batteries vary between different manufacturers. On average, they go roughly 1000 cycles.
Battery life is another worth-considering factor, especially for those riders who intend to go on long distances or communicating. Two important things you need to know when choosing the battery are mileage and speed.
For fun, the mileage of 5-8 miles is great while 9 miles and up to suit for transportation. Speed is a preference issue, it's up to you!
Motor
Check the overall wattage of the electric skateboard's moto that can supply. However, it's not true that the higher the wattage, the faster. What exactly influences its speed are the gear ratios and the motor controller parameters. Hence, don't try to pick the highest wattage of all the time. It even gives you some annoyance because of louder operation.
Also, choose between the dual hub and the single motors. If possible, pick the dual one because they are always more powerful than its counterpart.
Hill Climbing Ability
Another preference-depending issue! If you want to challenge the nearby hills, consider whether it's steep or slope to pick the most suitable electric skateboard. While considering, read the description carefully to know and compare the hill grades of the different models. The most powerful motorized skateboard that I have tried ranged up to 25%.
Riding mode
Riding modes vary from product to product but usually within 2-5 options. This is a must-considering feature for beginners for easier starting and immediate riders to graduate to a higher speed.
Riding modes are controlled by wireless remote control so, you also need to check whether it transfers signals well or not.
Above are what I want to tell you when you choose your first electric skateboard. if all these are in quality, just choose it, you will have a good experience when riding on it.