Vestar Electric Skateboards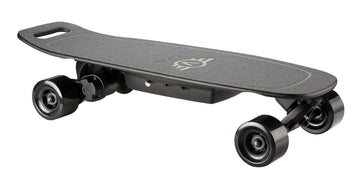 MY FIRST ESK8 &nbsp BEST PORTABLE &nbsp EBOARDPERFECT GIFT
Mini 2
The new Mini still maintains a very competitive price on the premise of improving the performance of the skateboard. If you like a skateboard that is easy to take away, does not take up space, and maintains the explosive power of a portable skateboard, then the vestar mini is your best choice!
Learn More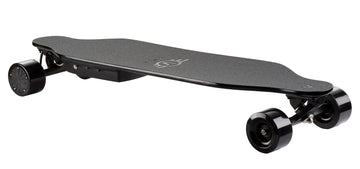 BEST BUDGET LONGBOARD &nbsp &nbsp SMOOTH POWER &nbsp &nbsp EXCELLENT BRAKING
V3 Bamboo Cruise
This board is the superman of leotards!
It adopts a one-piece all-metal shell, all-bamboo + fiberglass flexible board, which combines riding comfort and sturdiness.
The high-rate battery and the ESC professionally customized by Hobbywing Technology inject a boost to the two high-power in-wheel motors. Super acceleration performance and smooth braking make you ride with confidence. Combined with the power and battery life, the total weight is only 17.4 lbs/7.9 kg.
If you need a lightweight and easy-to-ride electric skateboard for your daily commute, this is what you need!
Learn More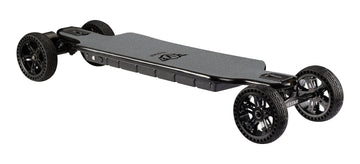 MOST POWER &nbsp &nbsp FLEXIBLE ALL-TERRAINRIDING &nbsp &nbsp EASY AND COMFORTABLE
Black Hawk 2.0
The Black Hawk is like a hunter flying high into the sky, you can do whatever you want.
Matching different wheels, you can cruising, carving, sliding and even dancing on the runway, you can also go to the grass, mountain road, hillside adventure.
In short, this is an all-round boards.you can flexibly change its usage scenarios, it has long battery life, strong power, and comfortable foot feel.
If you can only have one board, it is definitely a good choice for you!
Learn More
Best Electric Skateboards
Also known as esk8 or e-skate, electric skateboards are the new way to make your rides fun and thrilling. Unlike regular skateboards, electric skateboards are equipped with motors in the wheels and an embedded battery, which makes the wheels spin. The speed of the board is controlled via a hand-held remote. You still have to lean from side to side to give it direction. Excellent for all ages, electric skateboards are the ideal way to commute to work every day, cruise on weekends, or just have fun with friends. Also, they are environmentally friendly!
Surf The Road On The Best Electric Skateboards
Are You Tired Of The Old-School Skateboards? Come Check Out Our Innovative electric skateboards.
Why Electric Skateboards?
1. Easy and fun to ride
If you want that rush of adrenaline, riding an electric board is the activity for you. Not only are these boards super fun to ride, but they are also easy to learn.
2. Faster and speedier
Unlike traditional boards, electric skateboards for adults allow you to adjust the speed you want to travel at. Go beyond the limit with Vestar Skateboards.
3. Eco- friendly
Go eco-friendly with the best electric skateboards for beginners. If your commute to work or the store is short enough, ride an electric skateboard.
4. Go anywhere
With the best all-terrain electric skateboards, ride seamlessly on dirt and grass for a limitless ride experience. Explore different terrains with Vestar's Black Hawk 2.0!
What distinguishes an electric skateboard from a conventional skateboard?
There isn't much difference between a traditional skateboard and an electric skateboard. Traditional skateboards are lightweight and provide no assistance while riding. The only feature that sets them apart is the presence of electric motors in the electric skateboards. An electric skateboard must be operated with a remote, and its battery must be charged in order for it to function as an electric skateboard.
How fast can an electric skateboard go?
On average, an electric skateboard can reach speeds between 18 mph and 27 mph. Some advanced models of electric skateboards can exceed 40 mph. The speed of an electric skateboard depends on the power of the battery. Vestar's Osprey carbon can go up to 37 mph.
How many years can an electric skateboard last?
If maintained properly, an electric skateboard can last up to 2–3 years. The longevity of the electric board depends on how well the battery is maintained. When not in use, keep your battery in a cool, dry location and make sure to charge it frequently. These are just a couple of easy steps you can take to increase the lifespan of your battery.
Can electric boards go uphill?
Thanks to the added power and torque they get from electric motors, skateboards are capable of going uphill. Depending on the kind of skateboard you have, they can handle a certain amount of incline. The best skateboard for climbing hills would be an off-road electric skateboard because they have more durable tires and a stronger motor.
I first purchased my V2 pro with the smaller battery and was very pleased with the performance especially the speed! 36mph downhill! very stable the whole time even with my loose trucks. Thanks to the riser pads It has plenty of room for cloudwheel 105s and shredlights. I had enough room to install a quad headlight setup on mine comfortably! I later purchased the bigger battery and was granted alot more torque and I get about 19 miles riding pretty trigger happy. I would highly recommend this as an affordable, FAST, agile daily cruiser for short and long ranges!
Everything is top tier, polished and finished. No issues, the wheels are getting a little worn at 200miles but I carve a lot.
Only other issue I could say is the grip tape rubs off, but I'm not the best with it..
The board is quick as a whip and has more torque than a bull.
I highly recommend it and the range is out of control and I ride relatively at 22-28mph.
Great product.
I can get to class and back without having to wait for the bus (which is always late). The extended battery life really helps me use the board the entire day without having to charge it in my dorm room. Highly recommend if you are a college student!!
Use it to get to and from work, makes my commute fun rather than boring in a car or too long walking, also go for random rips around town, this is more fun than snowboarding out west (I find) feels very similar to powder snowboarding... love both wheels, had a bearing fail after 30km, Paul are sending me a new set.
This is my second e board and I couldn't recommend it enough. Everything you could want with you board you get. Speed, Range, Torque, Top End.
Really a phenomenal board for the price, Can't recommend it enough!
It is one of the best skateboard experience I've had in my life. The range and how easy to maneuver is incredible. Even at a high speed it's really stable! The Cloudwheels make a workd of a difference and it's so relaxing to ride!
I am 30 years old. I really like snowboarding and ice skating. So I decided to buy one of these electric skateboards. I chose the blackhawk from Vestar. I don't know why, I watched 100's of videos and reviews and bought this. I've only tried one (the smaller and cheaper one) before. This car has credit, no joke. I almost collapsed the first time because I thought I could corner at 40m/h with 3 minutes of experience... I learned to respect its power and now I can handle it, but it often causes surprises. I use it to get around almost every day. I also use it for long weekend trips and love it. Cloudwheels are great for concrete, but when the surface gets rougher it becomes flabelos. I can't wait to try the aero wheels. (I asked Santa for food or something)
All in all, it's a vehicle of the future (people have to use it in my town and they look like I'm from another planet or something...) and it's a very satisfying replacement Choice of car or motorcycle. It is a real pleasure to bend over to work or go shopping with it.
Shipping to Europe was super fast (less than 3 weeks) by the way, so thanks Vestar for everything! ! !
God be with you!