News
New Vestar longboard is coming-V2-Pro
by Frank Wong on Jun 25, 2019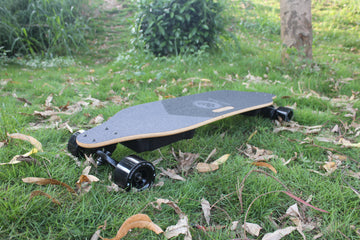 Good News!
Vestar produces his new longboard-----V2-Pro!
This new longboard is very awesome! Let's introduce the details to you about this great board! As its name, it is a board which is the upgrade version from V2. As you know our V2 is very good, its long range and adjustable belt tension, flex & strong deck, high top speed. You must want to know-How about new features on V2-Pro?
New Turbo ESC
 The V2-Pro uses an excellent improved Hobbywing turbo ESC (The overall hardware upgrade enables it to work at much higher current) which allows you to get larger torque and faster acceleration.
Speed Mode: 
1 Slow mode:   16km/h  
2 Normal mode: 30km/h  
3 Fast mode:   42km/h  
Truck
V2-Pro use the high-quality truck with unique motor holder and belt case which are designed by ourselves. The motor holder has belt tension adjustment function. you can adjust the belt by yourself. The belt case is designed very flexible, it can be suitable for many size pully from 12T to 15T.
Hyperelastic PU wheels
V2-Pro offers 3 size wheels to be chosen (83*52/90*52/97*52). All are 78A wheels, the wheel is softer and wear-resistant which provide you better shock absorption and more stable riding experience.
After it is released, any comments are welcome! your suggestion is our fount of improvement! Vestar Team will do their best to improve the board!